Basic information about Sohbi Craft Poland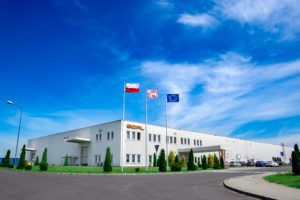 In November 2007, the Polish branch of Sohbi Group was established in Crystal Park. The Crystal Park Economic Zone is Europe's largest LCD modules and screens production centre with the production facilities of Sharp Manufacturing Poland located in the very centre of the zone. Since 2008 Sohbi Craft Poland has produced metal parts for LCD screens manufactured by Sharp. Our engineering know-how acquired over years along with state-of-the-art stamping dies, press tools and other equipment give us the motivation to provide comprehensive and fully satisfying services for our Clients.
Vision
Our vision is to became a significant worldwide manufacturer, distinguished on the market by excellent quality of products and services and capable of satisfying any current and future requirements of the Clients in every sphere of business. At the same time, we strive to encourage our personnel to work in a creative way by increasing their motivation and team spirit in a permanently improving work environment.
Mission
Supporting our Clients by providing highest quality products and service, so that our Clients gain a competitive market position.
Following International Standards by establishing, assessing, auditing and constantly improving the Quality and Environmental Management System and at the same time maintaining efficient communication regarding Company Policy comprehensible for all Company personnel…
Maintaining the vision and mission by constantly searching for innovation through education and training as well as implementation of new technologies and best market practices and at the same time bearing business profitability in mind
Developing a diversified market base which would provide stability and sufficient revenues thus enabling us to follow our vision and create new opportunities for our personnel
Creating a friendly, enriching and development-driven work environment encouraging our personnel to work more efficiently and develop in personal and professional spheres
Establishing and maintaining mutual and stable relationships with suppliers and business partners by providing them with regular support and assistance
Developing and maintaining corporate social responsibility in order to serve the community
SCPL in numbers
6th Sohbi Group factory
Share capital 46 404 000 PLN
Factory construction completed in November 2007
Quality & Environmental Management System (ISO 9001 and 14001) certification in December 2008
Receiving certification for compliance with ISO/TS 16949 in August 2013
Receiving certification for compliance with IATF 16949 in May 2018
Plot area of 15 840 m2
Factory area of 10 590 m2
Production and Services
Our offer includes a wide range of industry-related services. SCPL focuses on:
Designing and manufacturing stamping dies for steel, aluminium and other metals processing.
Assembling precision electronics and OA (Office Automation) equipment components.
Manufacturing stamped products made of steel and aluminium.
SCPL Policy
SCPL Certificates